To restore Mailbox from Recovery Database Exchange 2007 when backup of Exchange mailboxes is not available, professional application like Exchange Recovery is helpful to be used.
The most prominent feature of Exchange 2003 and 2007 is Recovery Storage Groups. The complete process to restore mailbox from Recovery Exchange 2003 compels to configure the entire Exchange forest before getting started. First the data gets stored from Exchange forest to Exchange mailboxes that further move to the PST file format to be exported into Outlook production mailboxes. The same process needs to be followed into Exchange 2007, but the condition applied is, the user should have a proper Exchange database backup. To restore a mailbox from Recovery database, Exchange 2007 when you do not have back-up that is valid and healthy, you may move to get a commercial Exchange database repair tool.
The task of the Recovery storage group that is now available in Exchange 2010 and Exchange 203 with name Recovery Database Exchange is responsible to mount a restored copy of Exchange databases to the dedicated Server when it is within the same Administrative Group. Restoring desired number of mailboxes or for one mailbox or for entire database is all about what you prefer. Due to the new name of Recovery Storage Group as Recovery Database Exchange, Exchange 2007 users also use the term Recovery database Exchange instead of Storage Group.
Redirecting Restore To Recovery Storage Groups (Using Exchange Management Console)
1. Open the Exchange Management Console, find the Toolbox option at the left panel of the wizard, opt Database Recovery Manager (under disaster recovery tools)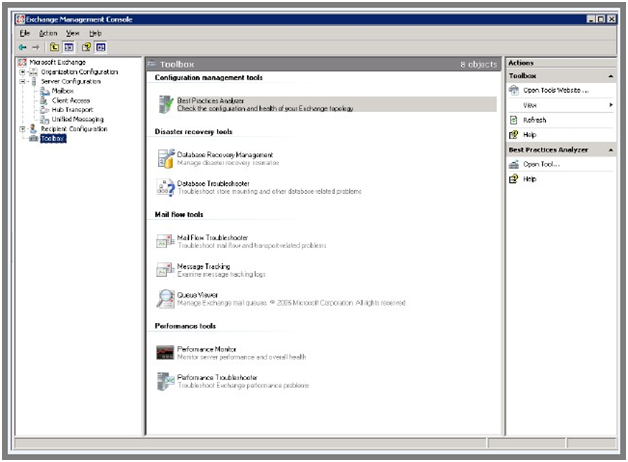 2. Fill server credential and information about domain controller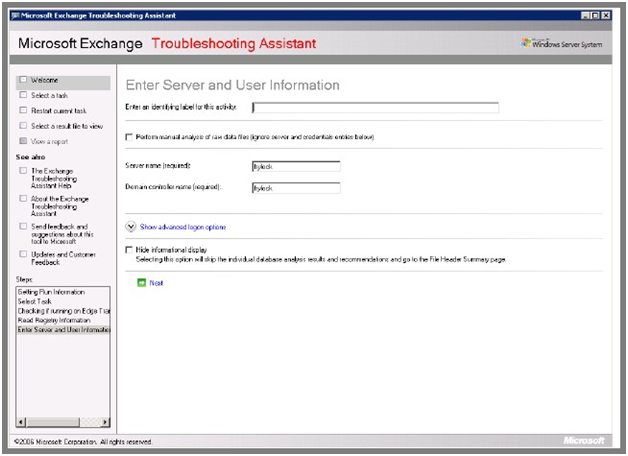 3. Make a selection for "Create a recovery storage group"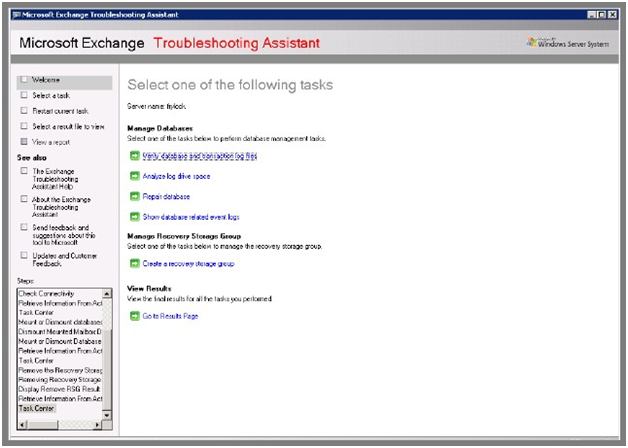 4. Select the Storage group for which data need to be restored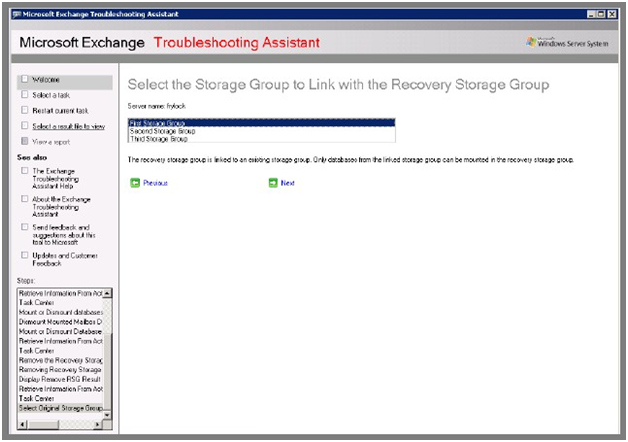 5. Enter the name of Recovery Storage Group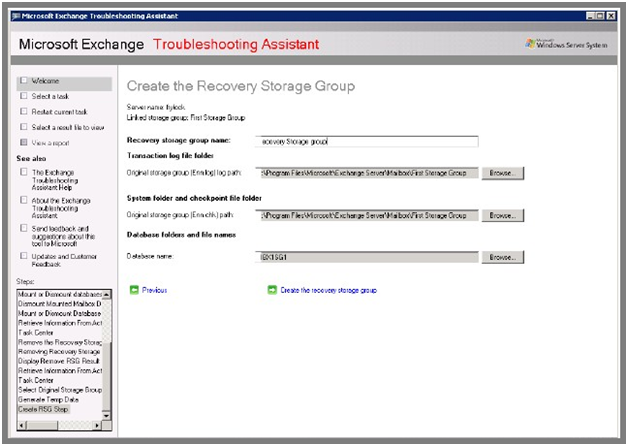 6. Check the process is going right, make selection for "Go back to task center"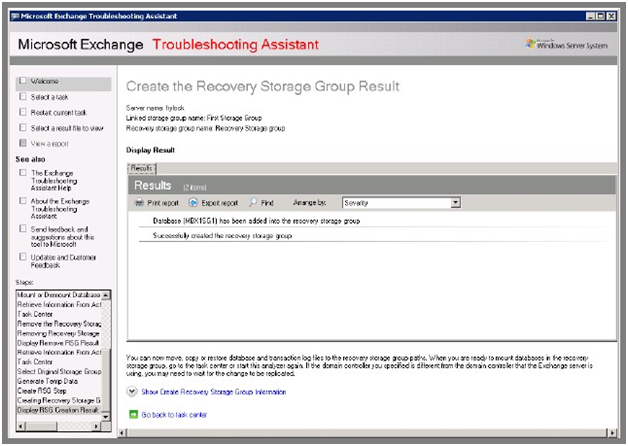 7. Need to select Backup exec and then, move on to select Recovery Storage Group from where data will get restored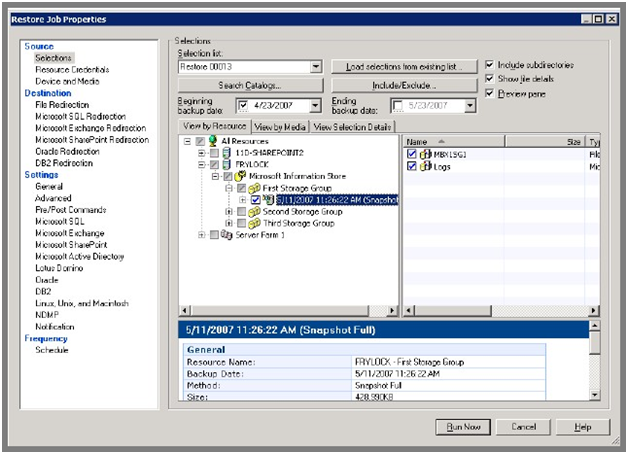 • In the left task pane, select "Microsoft Exchange Redirection"
• "Redirected Exchange sets", check this option off
• Again, you need to fill the same Server credentials that were used as the starting process
• Need to check in "Redirect using Volume Shadow Copy Services (VSS) snapshot provider"
• Opt for the Radial button saying "Redirect to Recovery Storage Group (RSG) (Exchange 2007 only)"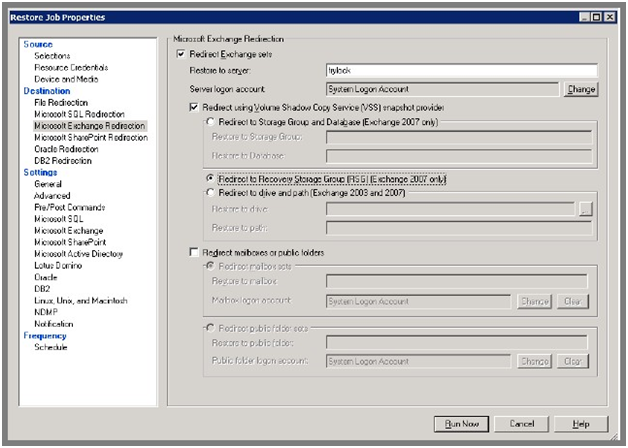 8. Afterwards, it is required to run "Restore Job"
**Executing Exchange Restore Process **
When the database gets properly restored into RSG with merge mail missing via production mailbox or with the usage of Restore-Mailbox at command prompt applying cmdlet commands, then data will be restored into same Exchange mailbox or within desired mailbox for the same Server.
The Restore-Mailbox cmdlet works for non-connected mailboxes as data source and connected mailboxes will play the role of target data storage place. The connected and disconnected databases will be associated with Restore-mailbox. Before getting started with this command, user need to check out if the underneath mentioned requirements fulfill:
• Delegated Local administrator groups and Exchange Server Administrator for target and source servers
• Source and recovered databases must come from same Exchange Server 2007
Note: The basic prerequisite is having healthy backup. exec
Command need to be followed for Restore-Mailbox command:
Restore-Mailbox -Identity -RSGDatabase -RSGMailbox -TargetFolder
When Backup Exec Is Not Available – How To Recover Exchange Mailboxes
In case if there is not any healthy backup exec with which the Recovery Database Exchange 2007 will work to restore mailbox, then it is required to get some commercial tool for Exchange database recovery. Exchange Recovery is a powerful tool that recovers damaged, corrupt, and inaccessible Exchange mailboxes for all the details. The data will further stored in PST, MSG, EML, and other Exchange Server mailboxes. This tool will not bother to have any backup or other measure that one cannot fulfill. Once the recovery of Exchange database will be done, if the storage format of the file is PST goes beyond of permitted limit, then the resultant PST file will be divided into small parts.
Author Bio: Revealing a new product daily is not the task of the organization. The dedication towards offering beneficial software application to settle down issues is the task performed by the organization. Exchange Recovery is designed to restore mailbox from Recovery database Exchange 2007 when backup is not available.